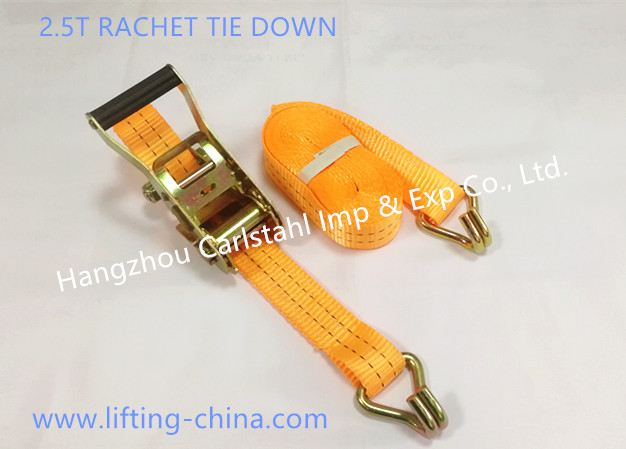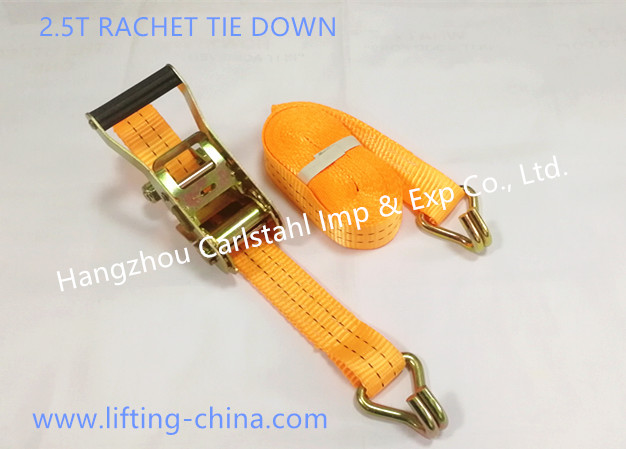 How to select ratchet tie down? Ratchet tie down is consisting of webbing, ratchet tensioner and fixed end, also called lashing straps in European countries. We usually see the endless and two-part type ratchet tie down in daily life.
1.The webbing is made of high tenacity polyester(PES) material, and bright color, orange, blue,yellow,red. There is black lines on the webbing, this is ton lines, like webbing sling, means the WLL ton of webbing. For example, 5T orange ratchet tie down, 5 black lines on the webbing, you could also check the label, it shows the WLL too.
  2.Ratchet tensioner is made of steel and galvanized, with steel handle or plastic handle. You could easily operate the ratchet tie down, smoothly, with the good quality strong ratchet tensioner and save time. This part would largely determine the lifetime and the cost of ratchet tie down.
3.Fixed end, a lot of types hardware, J hook, double J hook, S hook, snap hook, claw hook, triangle hook and so on. They are made of steel, aluminum, plastic material.
4.Label. According to standard DIN EN 12195-2,the fixed and adjustable ends must each have a label that shows all technical details. The fixed end label specifies the standard tension force. If this information is missing, the ratchet tie down must not be used.
You can select the good quality of ratchet tie down according to above the four points, or inquiry Hangzhou Carlstahl Imp & Exp Co., Ltd., we could give you professional advice.