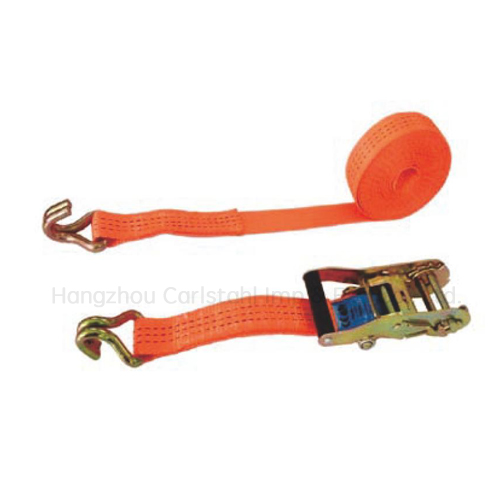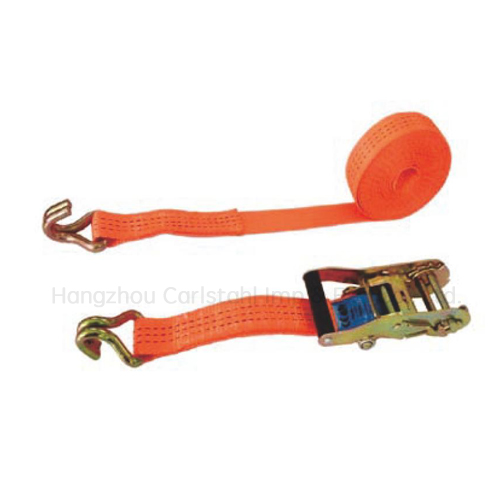 One standard set of Carl Stahl 5T ratchet tie down is consist of one strong ratchet, webbing, two double J hooks. Carl Stahl 5T ratchet tie down is durable and competitive in the market. Ratchet tie down are ideal for a number of tie-down applications, like securing loads to vehicles and keeping construction materials in place.
Heavy duty Ratchet is well used in European country for over 20 years. The stand type Carl Stahl ratchet tie down Ratchet handle acts as a lever, when you pull it, a mechanism pulls a bit more of the strap through, and then tightening the webbing, fix the load not to move.
There are 3 options for ratchet handle, plastic, aluminum, rubber, can be assembled according to client's request, plastic is cheap, rubber handle is expensive, but comfortable for hand operating. Or stainless steel ratchet also availed for high class quality.The weight-loading limit, WLL and length, you should focus on. We supply ratchet tie down from 0.5T to 10T, length up to 20 Meter.
2. The width of polyester webbing from 25 mm to 75mm, yellow, orange, blue, green, red color, also could be printed your brand letters on the webbing.
3.Various of hook types, for example, double J hooks, one pointed J hooks, claw hook, triangle, clevis hook. The material of hooks normally is steel galvanized, or stainless steel.
4.We offer a wide variety of Carl Stahl ratchet tie down to suit your needs. Weight-loading limit and material would largely decide the prices and quality.
If you have questions, please send email to dolly@carlstahl.cn.