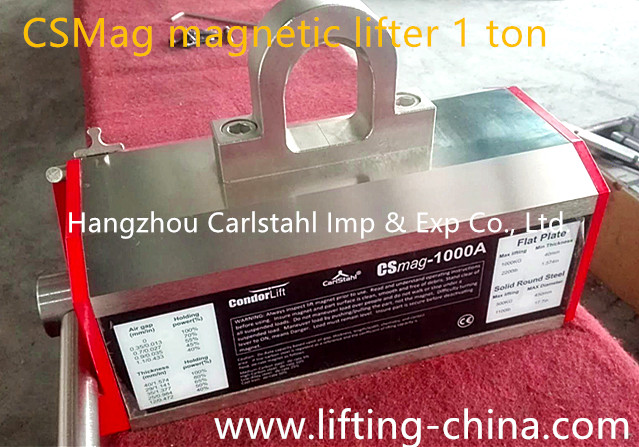 How to inspect magnetic lifter 1 ton before using?
You must observe the working environment.
Danger or crushing due to lack of space. There is a danger of crushing due to clearances that are too small at the load pick-up path, and at the load drop-off point.
Ensure that there are no people in the working area.
Never linger or pass under the loading.
Never in the environments that are subject to explosion, or where there is exposure to salt, acid,toxic, or alkaline substances.
Temperature range from -10℃ to +80℃.
Rust, dirt, burrs and other protrusions must be removed from the surface of the load.
The weight and size of loads should be in the load capacity.
CSmag magnetic lifter 1 ton can load the steel flat material thickness 20mm, load capacity 1000kg, and diameter of round steel material 450mm, load capacity 500kg.
Don't forget the weight of magnetic lifter itself.
Vertical lifting and lowering f non-guided loads, can't horizontal lifting.
Inspect the magnetic lifter whether in good performance.
Make sure that only suitable specialized worker can perform with and on the load lifting magnet.
Safety is first concern and extremely important during the loading.
CSmag magnetic lifter 1 ton little weight and high perform of safety and competitive price, welcomed in the lifting markets.